News
VINDICATED: President Trump's Campaign Staff Wiretapped, CNN Suffers MSM Meltdown
This is hilarious, folks.
As you may have heard, the latest reports out of DC have shown us some clear-cut evidence about wiretapping.
It making us believe that President Trump's campaign manager during the 2016 elections, Paul Manafort, was wiretapped by Obama and his goons.
Typical Democrat behavior if you ask me. Nobody is guilty until they get caught, and as it stands, it seems that they have been caught red-handed.
President Trump himself tweeted about the incident back in March. There probably was enough hard evidence even back then.
But CNN rushed to the liberal rescue.
They did not hesitate to call our President a liar, and to call his claims baseless.
As recently as two weeks ago, their website published an article with the title, "Donald Trump just flat-out lied about Trump Tower wiretapping." This was on September 5th.
Then, on September 18th, less than two weeks later, they say, "Exclusive: US government wiretapped former Trump campaign chairman."
Take a look for yourself: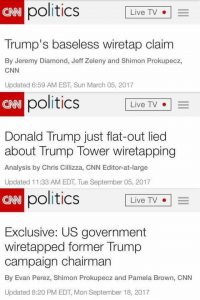 The US government at the time would be Barack Hussein Obama.
Our President was right again.
And CNN still sucks. What fake news!
According to Breitbart:
U.S. investigators wiretapped President Trump's campaign chairman Paul Manafort, according to a report by CNN that vindicates the president's earlier claims, which were mocked as a conspiracy theory.

Breitbart News editor Joel Pollak had reported the day before Trump's tweet that the Obama administration "sought, and eventually obtained, authorization to eavesdrop on the Trump campaign: continued monitoring the Trump team even when no evidence of wrongdoing was found."

Trump's claim, and Breitbart News's report, were mocked as a conspiracy theory, and other news outlets reported that there was no basis to the claims.

CNN itself at the time called the idea that Trump was wiretapped "incendiary."
Wow. Just wow.
CNN just can't help themselves, can they?
Obama should be investigated. Big time.
This. Is. Espionage.
Share if you agree.
Source: Breitbart