Politics
Melania Trump Visits Children's Hospital In Rome, Speaks Italian With Patients
On Wdnesday, First lady Melania Trump paid a special visit to the children of Bambino Gesu Pediatric Hospital in Rome. According to her spokeswoman, Stephanie Grisham, Trump was greeted by the children in unison with a "Ciao Melania."
Bambino Gesù was the first pediatric facility in Italy, and is the largest pediatric research center in Europe. It provides free health care and housing for approximately 3,500 families, and is run by the Catholic Church. The visit was all thanks to President Trump, who wrote a letter to Pope Francis asking if the first lady could visit the hospital, stressing the fact that it was very important to her.
The hospital houses roughly 600 patients, with some children coming from as far as Iraq and Nepal.
"She went in the children's [intensive care unit], which was very emotional," Grisham said. "She spoke to them in Italian, she signed bandages and she took lots of selfies."
The first lady visited with children from nine countries presented them with gifts, including backpacks and coloring supplies from the White House.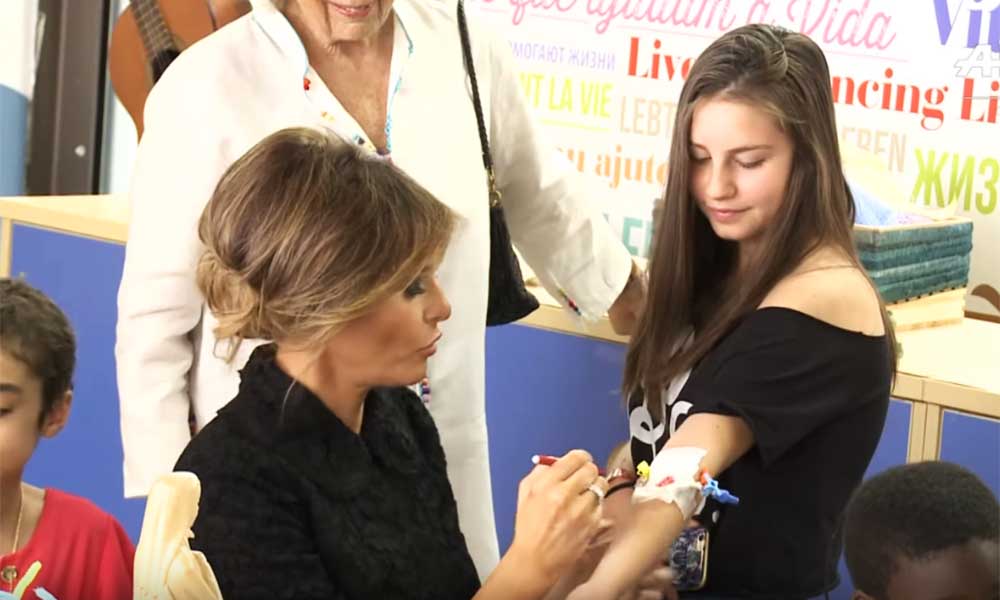 Melania looked totally at ease and relaxed while sitting down and chatting with the young patients, at one point pausing to snap some selfies with them, and also kissed a young child on the cheek and gave him a hug.
She shared her sentiments on Twitter:
Thank you @bambinogesu for the heroic work you do. I ask that everyone keep these amazing children in your thoughts & prayers. pic.twitter.com/UfVAc9lXv2

— Melania Trump (@FLOTUS) May 24, 2017
A little boy who I visited today & had been waiting for a heart transplant will be receiving one! #Blessings #Faith pic.twitter.com/DZU3ojxXVC

— Melania Trump (@FLOTUS) May 24, 2017
Earlier, she had met with Pope Francis at the Vatican, where she told him that she was looking forward to going to the hospital 'for the bambinos.' She later called the visit 'very moving.'
Referring to President Trump, Pope Francis smiled at the staff and asked via translator, 'What do you give him to eat, potizza?' He was referring to a local pastry – though some thought he'd said 'pizza.'
Melania's husband, stepdaughter Ivanka Trump, and Ivanka's husband Jared Kushner all joined her on her trip to the Vatican.
Melania and Ivanka wore the same all-black dresses for the meeting, and they kept with tradition and wore veils, which is traditionally worn by women as a sign of respect when meeting the Pope to meet with him. Trump senior aide Hope Hicks also wore one.
Before leaving, Melania Trump left a message telling the children "Great visiting you! Stay strong & positive!"
Later that day, after her visit to the children's hospital, Melania and her husband boarded Air Force One at Leonardo da Vinci-Fiumicino Airport in Rome ahead of their flight to Brussels, Belgium.