Culture
HYPOCRISY: As Healthcare Stalls, One BRUTALLY TRUE Statement Exposes the Hypocrisy of the Left…
There is a statement being made on social media that lays out the brutal truth surrounding the hypocrisy that is big government and healthcare.
As the left unanimously continues to obstruct any (however incomplete) attempts at progress and a repeal process, outraged conservatives have taken to social media to express their disgust, as well as to show the hypocrisy of big government.
One user posted a powerful statement to multiple groups, including the ultra-popular Facebook groups "The Deplorables" and "Joined Hands Across America For Trump." The statement is as follows: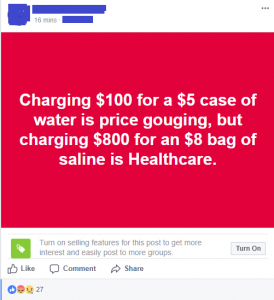 Here is a link to the statement:
https://www.facebook.com/groups/TheOriginalDeplorables/?multi_permalinks=1125838044444977&notif_t=like&notif_id=1506441008139430
It says: "Charging $100 for a $5 case of water is price gouging, but charging $800 for an $8 bag of saline is Healthcare."
Wow.
That is powerful.
Big government has no problem inflating the costs of healthcare and making it unsustainable for the everyday American, but if the private sector does the same they get thrown in jail for a crime.
Now don't get me wrong, I am 100 percent against the price gouging, but it should apply to everything, not just private retail sales.
What do you think of the hypocrisy of big government brutally exposed by statements like this?
Do you have any similar comments to share?
Please let us know!