Celebrity
HILARIOUS: Amy Schumer Blames Trump Supporters for Getting FIRED from a Hollywood Project
Amy Schumer is giving Hillary Clinton and Maxine Waters a run for their money.
She keeps outdoing herself! Just when you thought it couldn't get any worse for Amy, she just got booted off of a movie project (because she is a horrible actress, and person at that).
Guess who she blames??
Amy Schumer is supposedly a famous comedian, but she's not very funny and her movies are terrible. Sadly, Hollywood keeps allowing her to make new movies.

Her "jokes" are mean-spirited, sexually graphic, degrading, and disgusting. Also, she is an angry opponent of President Donald Trump and his conservative supporters.

Now, she had to leave production of a live-action "Barbie" movie. And guess who she blames?

This is pathetic:

"SADLY, I'M NO LONGER ABLE TO COMMIT TO BARBIE DUE TO SCHEDULING CONFLICTS," SCHUMER SAID THURSDAY IN A STATEMENT. "THE FILM HAS SO MUCH PROMISE, AND SONY AND MATTEL HAVE BEEN GREAT PARTNERS. I'M BUMMED, BUT LOOK FORWARD TO SEEING BARBIE ON THE BIG SCREEN."

SCHUMER, WHO HAD JOINED THE PROJECT IN DECEMBER, RECENTLY DID A POLISH ON THE SCRIPT BY HILARY WINSTON. SCHUMER'S SCHEDULE HAS BECOME QUITE BUSY: HER LATEST COMEDY SNATCHED IS DUE OUT IN MAY, AND ON THURSDAY IT ALSO WAS ANNOUNCED THAT SHE IS JOINING THE CAST OF REBECCA MILLER'S SHE CAME TO ME WITH STEVE CARELL.

MATTEL AND PRODUCERS WALTER F. PARKES, LAURIE MACDONALD AND AMY PASCAL ARE TEAMING ON THE BARBIE PROJECT, WHICH WILL TRY TO PUT A CONTEMPORARY SPIN ON BEAUTY, FEMINISM AND IDENTITY.

THE PIC ALSO IS CURRENTLY WITHOUT A DIRECTOR. IN DECEMBER, SONY PUSHED ITS RELEASE FROM MAY 12, 2017, TO JUNE 29, 2018.
She let everyone know what she thought the real reason for her pathetic failure of a career is on Instagram: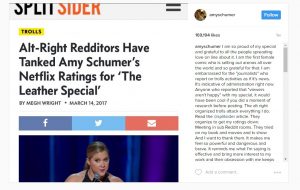 Amy you say nasty mean things about the President. OUR President. People are tired of hearing your personal hatred speeches. You piss people off. And we'll……it's your own mouth getting you in trouble. Hush little baby!
Maybe it would do her career some good if she could be quiet about politics! Not too hard to do!
Then again, no it won't. She sucks at acting.
Hopefully you lose many more thanks to Trump supporters. If you want to be a loud-mouthed intolerant you-know-what, you have to be willing to accept the consequences.
It is quite a shame that she blames, blames, blames the President of the United States of America and his supporters. Get out of the way and make America great again. Move on to another country.
Share this EVERYWHERE to expose what a loser Amy Schumer is!