Culture
EPIC: Single Pie Chart Reveals Hypocrisy of Liberal Gun Control Myth, Goes Viral
Guns don't kill people all by themselves. People kill people, and don't need guns to do it.
It's not the gun that was the problem in Las Vegas, nor in Orlando, nor in San Bernardino. It was the mentally deranged fanatics that did not give a rat's behind about the rules or laws.
One pie chart, courtesy of The Philosopher, has gone viral, as it depicts that a full 100 percent of mass shootings are caused by mentally deranged people, not any specific type of gun, as liberals will tell you.
The only reason the liberal left wants you to believe their narrative is so that they can slowly chip away at our 2nd Amendment rights and ultimately disarm the public.
That will only give criminals the upper hand.
We already see this in places like Chicago and Europe where strict gun laws are implemented to no avail.
Here is the image of the chart, courtesy of The Philosopher: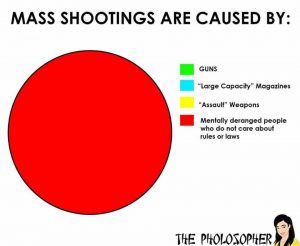 Boom.
Not guns, not knives, not cars, not trucks, not assault weapons, not pipe bombs, but people are what do the killing.
The tool is irrelevant when you have total disregard for the law and the safety of others.
Share if you agree.