Culture
DISGUSTING: With Over 15 MILLION Starving American Children, the Democrats Are Fighting for THIS… One MEME Tells All…
There are over 14 million starving children who were born in America. There are countless numbers of homeless adults and Veterans living in the poorest conditions. And the Disgusting Democrats are fighting for 800 thousand illegals, because they are of voting age, and will vote Democrat.
The picture below sends a heartbreaking, yet resounding message that reveals the true Democrat agenda for all to see. The new Democrats have become the party of race, gender, and illegal immigrants, resorting to hate politics as they have no message. They are buying votes, and leaving the American people to suffer the consequences.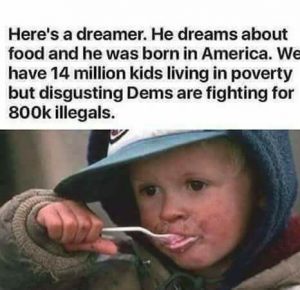 Take a look at DACA, for instance.
DACA is simply a scheme to burden Americans with more low-skilled workers at a time where jobs are on the rise, but still competitive. These illegals will vote Democrat, which is something the poor child in the picture and other American children cannot do for quite some time. The Democrats do not care about Americans. They care about control.
Share if you agree that enough is enough, and that it is time to vote these anti-American scumbags out of office in the midterms.