Politics
Did Comey Lie: What influenced the Hillary Clinton Exoneration?
Did Lynch's meeting with Bill Clinton on the TARMAC cause the exoneration of Presidential Candidate Hillary Clinton?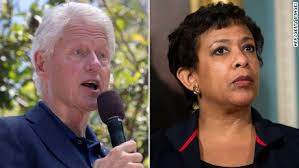 In a report conducted by FOX severe inconsistencies were brought to light. Here's what they reported:
 Fresh allegations that former FBI director James Comey began drafting an "exoneration statement" for Hillary Clinton well before interviewing her and other key witnesses have called into question his Senate testimony about why he decided to go public with his findings in the email case last summer.

In a June hearing before the Senate Intelligence Committee, Comey was asked whether his decision to announce the results of the investigation was influenced by then-Attorney General Loretta Lynch's infamous meeting days earlier on an Arizona tarmac with former President Bill Clinton.

Yet an Aug. 30 letter from Senate Judiciary Committee Chairman Chuck Grassley, R-Iowa, and Sen. Lindsey Graham, R-S.C., said that interview transcripts show Comey was drafting what they called an "exoneration statement" for Clinton weeks earlier.

President Trump, in a Friday tweet, seized on the allegations to claim the process was "rigged."
Does this not confirm what we already assumed?
Amazingly, I have never came to the conclusion that I thought Hillary Clinton wasn't a criminal. She has hid her husbands misdeeds for decades, all while being apart of some of the largest scandals in American history. Hillary Clinton is a crook. If you believe otherwise…..YOU ARE DELUSIONAL! In many ways, this is what happens when the liberal media uses their position to regularly justify wrongdoing.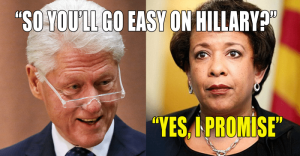 As you see above, it looked like Bill Clinton influenced the prosecution of Hillary. If you remember correctly, the left refused to incriminate Queen Hillary. And, they still do.
Would the liberal media ignore this if it was about President Trump?
Hilariously, the left has preached the narrative of Russia even since inauguration day. Without so much as one stitch of evidence. Every bit of evidence has been either circumstantial, or has involved anonymous sources. In many ways, it appears that anonymous sources appear to be a way to create a narrative even when you have no proof.
Here's what else FOX had to say about Comey's testimony in front of the Senate:
"James Comey had the nerve to testify under oath that he had to come forward last July to make his statement because the [tarmac meeting] cast doubt on the scope and nature of the investigation," he told Fox News' "Hannity." "The fact is, evidently, he already made up his mind three months before the investigation really got underway, so this whole thing was a fraud on the American people."

The transcripts in question were from interviews conducted by the Office of Special Counsel, which interviewed James Rybicki, Comey's chief of staff, and Trisha Anderson, the principal deputy general counsel of national security and cyberlaw, the GOP senators said.

The notes reflect claims that Comey "wrote a draft" of his statement around early May 2016.

Another passage suggests Comey sent around a draft in an attempt to be "forward-leaning" given the "direction the investigation" was headed.

It is possible that Comey drafted a statement meant for public release at a future date, but didn't decide to deliver an on-camera statement until the tarmac meeting.

Comey, whom Trump fired in May amid tensions over the Russia probe, also testified in June there were "other things" that contributed to his decision to go public, including Lynch allegedly urging him to refer to the email probe as a "matter" and not an "investigation."

"That was one of the bricks in the load that led me to conclude I have to step away from the department" in order to close the case "credibly," he said.

A Comey contact told Fox News on Friday that the former FBI director had no comment, when asked about the new allegations. It remains unclear whether Comey could have drafted a similar statement for a scenario in which charges would be filed against Clinton.

The Grassley-Graham letter, however, reflects no such statement.

In his July 2016 announcement, Comey famously called Clinton's email arrangement "extremely careless" though he decided against recommending criminal charges.

The new claims have, at a minimum, revived interest among Clinton's critics in revisiting aspects of the case.

In July, nearly two-dozen House Judiciary Committee Republicans called on the Trump Justice Department to name a second special counsel – alongside the Robert Mueller team probing allegations of Russia-Trump team collusion – to probe 2016 controversies involving Clinton and the Obama administration. This covered some aspects of the FBI and DOJ's handling of the email investigation.

A House Judiciary Committee aide told Fox News on Friday the panel is following up with the Justice Department, "and we expect the request for a second special counsel to be renewed."

Asked about the original request, a Justice Department official said Friday, "We have received the letter."

Earlier this week, the FBI declined to turn over files related to its Clinton email investigation by arguing there was a lack of public interest in the issue. The argument was made in a Freedom of Information Act records request.
Do you think that the liberal media should report on this? Share if you agree! Comment if you would like to continue seeing Right Daily in your daily feed!