Celebrity
BREAKING: Heartbreaking News as Eric Bolling Reveals Son's Cause of Death
This is beyond tragic, folks.
The opioid epidemic has ravaged the youth of our country, flooding the streets in cities and suburbs across the entire country, and leading to a spike in overdoses and untimely deaths.
One such case, as former Fox News anchor Eric Bolling has now confirmed on his social media accounts, is his son, Eric Chase.
The Coroner's office in Colorado confirmed to the Bolling family that opioids were indeed involved, and that the cause of death was an accidental overdose.
Here is the recent tweet from Eric Bolling's Twitter account:
Just received some tragic news from Coroner in Colorado. Eric Chase's passing has been ruled an accidental overdose that included opioids 1/

— Eric Bolling (@ericbolling) October 26, 2017
2/ Adrienne and I thank you for your continued prayers and support. We must fight against this national epidemic, too many innocent victims. pic.twitter.com/BigEPYhkP9

— Eric Bolling (@ericbolling) October 26, 2017
And here is the Facebook post: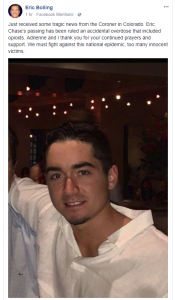 President Trump has declared the opioid crisis a 'Public Health Emergency,' and for good reason. It is robbing our youth of their innocence, their potential, and, in more and more cases, their lives.
We must address this crisis.
The opioid epidemic kills roughly the same number of people per year as car accidents.
This is another great initiative and approach by the Trump administration to battle the nation's real problems that need to be addressed so that we can truly advance as a society.
Illegal drugs are pouring in through our insecure borders to the south and overwhelming communities. This must end. Enough is enough.
Share if you agree.