Culture
BOOM: Muslim Liberal Editor Attacks President Trump Over NYC Terrorist Gitmo Tweet, Gets SMACKED DOWN by Epic Response
There are idiots out there, folks. There is no doubt about that.
But then there is this lady.
A Muslim liberal, whose agenda is to attack President Trump and America at all costs, was so blindly driven by Trump Derangement Syndrome that she posted what could possibly be the dumbest thing I have seen on social media in recent memory.
After President Trump called for the Radical Islamic Terrorist behind the attack in NYC, Uzbek Saifullo Saipov, to be sent to Guantanamo Bay, this liberal airhead immediately led with her emotions (hatred of Trump and America) instead of her brain, and posted this on Twitter: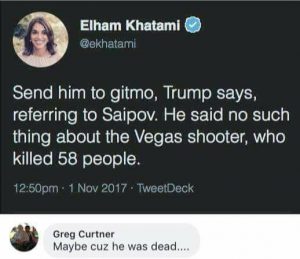 Note the response by Greg below the tweet. Mic drop.
We can only share the image of the tweet, and not the tweet itself, because the responses started pouring in, like Greg's gem here, and an ashamed and embarrassed Elham Khatami deleted her disgraceful tweet and replaced it with this:
Hi hi yes, I misspoke about the Vegas shooter, but the point stands: Trump's rhetoric is much harsher when the criminal is a PoC.

— Elham Khatami (@ekhatami) November 1, 2017
Elham Khatami is an editor at ThinkProgress. Let that sink in.
She edits the content that liberals read.
She is an Iranian Muslim, and hates the US, clearly, as her tweet was fired out so quickly she didn't even stop to think that DEAD PEOPLE DON'T GO TO PRISON!!!!
What a gem this lady is.
Share to expose the blind attack policies of the liberal airheads. This one coming from the editor at ThinkProgress, nonetheless.